Vanessa Bartlett, Rachel Marsden and Lindsay Kelley
The Big Anxiety Forum, Day 2
Friday 7 October 2022, 3:00 – 4:30pm
Green Brain Room, Story Hall, RMIT, 344 Swanston Street, Melbourne
Join the Stomach Ache project at The Big Anxiety Naarm to explore the felt sense of human-gastrointestinal relations. You will be invited to think of (or bring) an object that describes your relationship with your digestion or mind-gut connection. These speculative (and real) objects will help us explore role of the gut in our social and sensory lives.
The event will feature 'objects of digestion' shared by collaborating researchers on the project. Artist Lindsay Kelley will lead a tasting from her performance Dysphagiac, which responds to the feeding tube as an object that challenges social and sensory relationships with food. People with dysphagia lose their ability to swallow, and with it their ability to conform to conventional ways of digesting.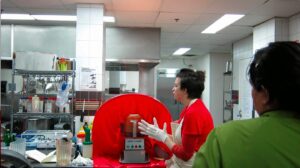 This event extends research conducted by lead researcher Vanessa Bartlett with people experiencing undiagnosed gut complaints, where participants have been responding to the prompt: if you had to choose an object to describe your relationship with your digestion what would this be and why? Answers have ranged from the functional: chopsticks for precisely selecting 'safe' foods from a plate, to the emotive: a quilt to provide comfort and nurture. These objects facilitate imaginative insights into the felt experience of digestive dysfunction and its impact on people's social and sensory lives.
This event is designed to be supportive for people with different eating abilities and tasting elements will be optional.
Participants may wish to bring along an object that describes their relationship to their digestion to use as a conversation starter.
This event is part of the two-day event The Big Anxiety Forum: full programme here. The Big Anxiety is an arts and mental health festival focusing on lived experiences of mental health, trauma and suicidality, and exploring the diverse ways in which art and design collaborations can provide valuable psychosocial support, while reframing experiences of trauma and distress in ways that normalise rather than pathologise.